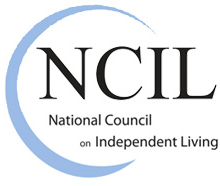 We are so close to having the number of cosponsors needed to ensure Disability Integration Act (H.R. 555 / S. 117) passage in the House of Representatives. Right now we have 158 cosponsors listed on congress.gov and ten more have committed to signing on this week, which means we only need 50 more to secure a majority of the House. Every week, we're building more momentum and gaining more cosponsors!
Next Monday through Wednesday, ADAPT will be in Washington, DC for three days of historic work to get the DIA closer to passage. They're coming to DC to call on Democratic members of the House to keep their promise of civil rights for all.
Read their message, "We Put Our Bodies on the Line to Save Obamacare. Now ADAPT Is Asking House Democrats to Support Our Fight for Freedom!"
We need the IL community to be ready to mobilize and support their work!
Take Action!
First, check the list of current cosponsors. If your Representative is not a current cosponsor, start by calling now, and then be prepared to follow next week's action!
Contact your Representative now! Call the U.S. Capitol Switchboard at (202) 224-3121 or (202) 224-3091 (TTY) and ask to be connected to your Representative's office, or contact their office directly using the House directory. You can use these fact sheets with talking points for both Democrat and Republican offices.
Help with social media! ADAPT has some incredible plans next week but needs help with amplifying their message on social media. If your CIL has folks who are active on Twitter who can help with social media next week, have them contact ADAPT right away to volunteer. Email Marilee Adamski-Smith at

This email address is being protected from spambots. You need JavaScript enabled to view it.

.
Follow the action! ADAPT will be posting updates using the hashtags #ADAPTandRESIST and #DIAtoday.
Be ready to make follow up calls next week if ADAPT ends up in your Representative's office!
Get ready to be a part of history!
---