Kevin Olson was born on August 28, 1971. He was raised on a farm just Southwest of Chanute, KS. He was an All-State basketball player who graduated from Chanute High School in the top 10% of his class in 1989. On July 15, 1991, he became paralyzed from the shoulders down as a result of a diving accident.
Since 1993 he has devoted his life to kids by tutoring at elementary schools, teaching at the Cherry Street Youth Center in Chanute, traveling around speaking at schools and churches, and serving as a Youth Minister for two churches in Fredonia, KS. After his accident Kevin also obtained his Associates degree and a computer programming certification. Currently he works from home creating websites and is busy promoting his first book, an autobiography titled "Learning to Live With It."
You can gain access to the site by going to the following URL, https://www.skil-fiscal.com/
To access the site, do the following;
1. Click Sign In
2. Enter account number, for employees this will be their SSN in the XXX-XX-XXXX format.
3. Enter password, for employees this will be their date of birth in the MM/DD/YYYY format.
4. Click the Sign In button.
Kim Rogers the IL Coordinator for the SKIL office in Chanute sends the following report about events in Chanute.
Zion Lutherans Church will no longer be a shelter for the public. The School is going to build one to be located on the Lincoln School grounds.
Also on Sunday October 20,1013 the Zion Lutheran Church is having their Oktoberfest fund raiser this year. Starts at 5:00pm-7:00pm. This is a freewill donation. Thought you might like to put this on the web site
Thank you, Kim
It's that time again! The Ms. Wheelchair Kansas program is currently searching for women of achievement, who are wheelchair mobile, to serve as contestants in the 10th Annual Ms. Wheelchair Kansas event.
Contestants can be nominated by a person or group or can choose to participate in the program. Organizations and companies are being encouraged to nominate women who are passionate, dynamic, articulate, and who have a message to share throughout the state.
The 2014 event will take place on March 14-16 at the Capitol Plaza Hotel in Topeka. Pre-nominations must be sent in by December 14, 2013. Contestant application packets must be postmarked by January 7, 2014.
Read more: Ms. Wheelchair Kansas Seeking Contestants and Nominations for Contestants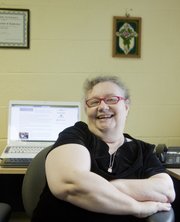 Kathy Lobb wants everyone to have the same opportunities she has: their own place, a job, independence. But some people need a hand to get there.
Lobb is one of those people. Born with cerebral palsy, Lobb has a job and lives on her own but still relies on help from others for things like transportation and hygiene.
"I have my own place here in Lawrence. I've been a taxpayer since 1999," she says. "I'm real proud to be a homeowner. I also pay property taxes and income taxes, just like everybody else."
Read more: Lawrence woman has made self-advocacy her life's work